'Tantric Sex for Busy Couples' a great primer even for singles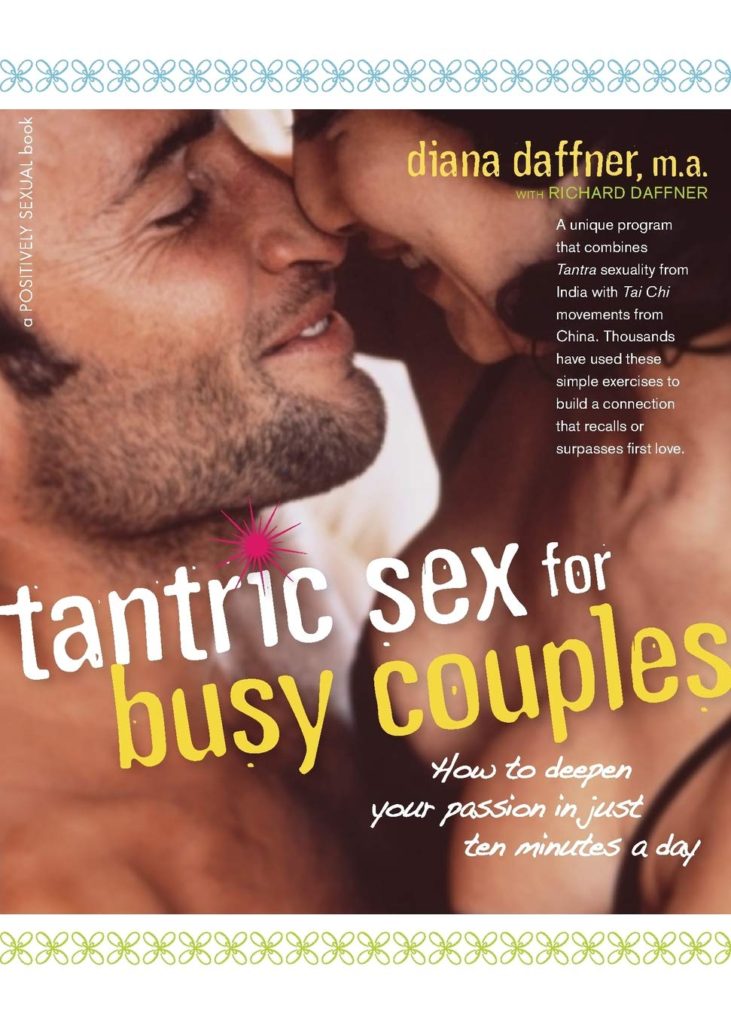 Tantric Sex for Busy Couples by Diana Daffner looks at the physical and spiritual benefits of practical tantra exercises.
Tantric sex for one? You're probably wondering why I'm reviewing a book about tantra for couples on a blog for single women, but knowing what you want from a potential sex life is important homework on the path to coupledom, and tantra can lead the way.
Though Tantric Sex for Busy Couples: How to Deepen Your Passion in Just Ten Minutes a Day (Hunter House, 2009) is aimed mainly at heterosexual, established relationships, it's chock full of information that will help anyone — gay or straight or other — looking for skills in intimacy both inside and outside of the bedroom.
Diana Daffner, a certified sexologist and Tai Chi instructor living on the west coast of Florida, authored the book with contributions from her husband of 24 years, Richard Daffner, also a certified sexologist. The 212-page paperback offers step-by-step physical exercises based on Diana and Richard's daily practice, which has helped their relationship maintain a spark over the years.
The practice is informed by principles of Tai Chi and yoga, but you needn't be a martial artist or yogi to understand her clear and simple descriptions of these principles. In fact, the book is a great primer on chakras, energy centers, yin and yang and other concepts. Also, the exercises are extremely simple and require no major physical exertion.
This is not a pornographic book offering up 101 sexual positions, but rather a tastefully illustrated guidebook for couples looking to break down intimacy barriers on physical as well as spiritual levels. The exercises help couples communicate intimately with and without words.
This also isn't a book about quickies on the kitchen floor or sex focused exclusively on achieving orgasm (not that there's anything wrong with that kind of sex). It's about the tantric approach to sex, which is based on energy and opening of the heart, as well as exploring all emotions — even uncomfortable ones.
Most people think of tantra as a wild, orgiastic sexual practice, but the truth is, it's really about connecting — taking an ordinary act and making it sacred. And you can have intimacy on all levels, even without sex, which is one of the reasons why this is an interesting read for anyone interested in cultivating relationship skills.
I had a chance to speak with Diana over the phone in what ended up being a delightful conversation.
On the subject of whether to have sex with your eyes open or closed, Diana believes it's important to have different experiences with eye contact. "Senses are heightened with the eyes closed, but to be able to look outward and feel a connection inside, that is the training of tantra," she said. "Most people don't even look themselves in the eyes and that in itself is a tantric practice."
Here's where practicing tantra comes in handy, even if you're a single woman. One of the first exercises in Diana's book is called solo stillness, which you can practice with yourself, even without a partner. Solo stillness is literally about standing still, centering yourself, tuning into your body and creating a space where connection can occur. After all, if you are not connected with yourself, how do you expect to share yourself with another?
And then there's the next level: practicing solo stillness in front of a mirror, eyes wide open, which is a very intense tantric practice. "Connect with the one behind your own eyes," she explained. "Look back at yourself and see yourself. Acknowledge yourself. We expect this from others but not ourselves. Be accepting of your whole body."
This is not a narcissistic practice, but rather a way of shedding those fears and inner dialogues that keep us from feeling secure in the presence of a lover. The first level of intimacy we need to cultivate is a deeply personal one. Hush that mind. Forget about the freckles, wrinkles and folds of fat. Look deeply within, while looking out.
I highly recommend this book to any woman who is curious about developing intimacy either with her current partner or with a future lover. We can't expect some prince charming to sweep us off our feet and give us what we want if we haven't paid close attention to our own desires. Forget Cinderella and happily ever after. Love and intimacy requires work, and you don't have to wait until you're in a relationship to start taking what's sacred about love seriously.
Too many times, we gals seek validation in the arms of a man and that leaves us feeling empty. Tantra begins with you, before that man ever penetrates your body. Our pre-relationship homework here is to fearlessly explore what we're willing to share with someone else.
And besides, what happens after you meet prince charming and he stops rocking your world in bed? Falling in love can only take you so far. "The break up rate is high. People fall out of love," said Diana. "But there is a way to continually recreate that first rush of love. True tantra is accepting. Everything has the potential to be sacred."
Diana and Richard offer workshops and retreats in South Florida and elsewhere in the U.S. For more information, visit them at Intimacy Retreats: Tantra and the Art of Conscious Relationship or click here to learn more about the book.
Originally published on Sex and the Beach, 2009
As an Amazon Associate I earn from qualifying purchases.
FTC disclosure: I received a complimentary copy of book, all opinions my own.