CURATED NEWS AND STORIES TO NURTURE THE LIVING HEART
Heart-Centered Living News is a curated collection of news, stories, resources and delightful curiosities that inspire action and contemplation. This monthly newsletter opens the door to a wide-range of topics for the "practical mystic" or anyone longing for grounded spirituality. Based in Washington, D.C. the newsletter is broad in scope and published by award-winning writer and #heartcamp founder Maria de los Angeles. Click here to subscribe.
THE STORY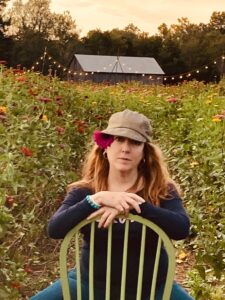 When I first arrived in D.C., I was surprised to find a richly diverse spiritual community that further inspired my ever-evolving concept of #heartcenteredmedia. Leaning on my experience as a journalist, speaker, online radio producer and host, I wanted to produce a hyper-local newsletter called HeartCenteredDC that would highlight the abundance of heart-centered practices in the nation's capital, and provide a central media outlet for many related communities involving spirituality, faith, health, wellness and much more — the list is long. Since the pandemic, however, the world has jumped from hyperlocal to global. The January 6 insurrection also shook my new life as a Washingtonian to the core and gave me pause, especially with the rise of conspirituality.
Many moons ago, I blazed a trail publishing an award-winning blog that ran over a decade. Then microblogging, vlogging and podcasts hit the scene, as well as ephemeral ways of storytelling.  Today, many long form writers and journalism organizations use newsletters to communicate with audiences — enter Heart-CenteredLiving.news. A tiny startup, the newsletter is a way I can stay connected to my audiences using journalistic integrity and to create community in-person or virtually around centering topics through events I founded called #heartcamp unconferences. As with my old blog, I share whatever interests me, provokes my thoughts, brings me joy or whatever educates, uplifts, opens the mind, sparks imagination. Everything — including the kitchen sink — and the myriad people who regularly cross my path and steward fascinating topics.
Readers can explore with me what is useful to stay centered and grounded in a dizzyingly hectic world. The practical mystic, or anyone who longs to be spiritually grounded, is — to put it simply — someone who's not afraid to look beyond the mundane, to dip their toes in the unknown, and yet be very much of this world. For me, science and spirituality are co-creators. To contemplate the most harrowing issues and dilemmas of our shared humanity, we benefit from a wide, inclusive lens.
TO READ OR NOT TO READ
Ironically, I thought long and hard about adding yet another email to anyone's inbox! After all, the most heart-centered act is to turn off the device, close your eyes, relax and breathe. I'm saturated with information and likely, you are too. Technology is the precious bane of my existence, its progress and peril. I can't complain about traffic when I know I'm part of it … I do hope my readers will slow down with me, swim lazily downstream while everyone's rushing up. And so I invited you to linger, slowly and mindfully.